News
Release of iOS 17: How to Update to iOS 17 on an iPhone
Apple finally launched iOS 17, the most recent significant update for iPhones, today, on September 18, 2023. It is now time to upgrade to the stable version of iOS unless you have compelling reasons to continue on iOS 16 or the iOS 17 beta. Although updating an iPhone is quite simple, if you are doing it for the first time or moving away from the Beta testing, it might be a little perplexing. To find out how to immediately install iOS 17 on your iPhone, continue reading.
How to Upgrade to iOS 17 from iOS 16
If you are updating from iOS 16 to iOS 17 and not from iOS 17 Beta to iOS 17 Stable version, downloading and installing iOS 17 on your iPhone is simple. The first thing we advise is that you backup your iPhone. Even when updating to a stable iOS update, issues might occasionally arise. Therefore, backing up your iPhone before you start is always a smart idea. the new iOS 17 version, then adhere to these instructions:
On your iPhone, open the Settings app and select General.
Find and select the "Software Update" option here.
Now that your iPhone has checked for updates, you ought to get the notification for iOS 17.
To start the update procedure, just tap the Download and Install option right now.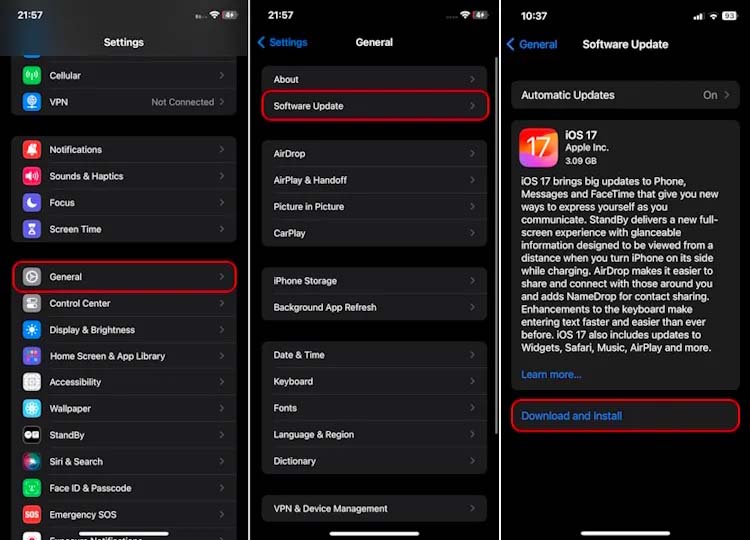 Keep your iPhone aside for the iOS 17 upgrade to finish downloading. Then, install the update by adhering to the on-screen directions.
The iOS 17 update size varies a little depending on the iPhone model, but if you are updating from iOS 16.6.1 to iOS 17, the file size is roughly 3.1GB. The iOS 17 update would be bigger and take longer to download if you were upgrading from an earlier iOS version.
The time it takes to download the iOS 17 update package will depend on your internet speed; on my 100 Mbps connection, it took 5 minutes. However, once you've downloaded the update, installing iOS 17 on your iPhone should only take an additional 10 to 15 minutes.
The iOS 16 build number was 20G81 on my iPhone 12 before the update, and the iOS 17 version number is 21A329 now. The Modem Firmware number, on the other hand, was 3.90.01, and upon the iOS 17 update, it was 4.06.01.
iOS 17 Supported iPhone Models
Don't worry if you're not sure if your iPhone can run the iOS 17 upgrade; we've got you covered. Like every significant iOS upgrade, iOS 17 is only compatible with iPhones manufactured within the last five years. Thus, the most recent iOS 17 upgrade will only be available for the iPhone XS or subsequent models. Unfortunately, the tried-and-true iPhone X was passed over this time. The full list of iPhones that work with iOS 17 is provided below:
iPhone 14, 14 Plus
iPhone 14 Pro, 14 Pro Max
iPhone 13, 13 Mini
iPhone 13 Pro, 13 Pro Max
iPhone 12, 12 Mini
iPhone 12 Pro, 12 Pro Max
iPhone 11, 11 Pro, 11 Pro Max
iPhone XR
iPhone XS, XS Max
iPhone SE (2020 & 2022)
Cool New Features in iOS 17
For compatible iPhones, this software update adds a plethora of new functions. The most recent iOS 17 update contains a ton of wonderful improvements that will improve the user experience, ranging from thrilling novelties like Contact Posters and NameDrop to practical tools like StandBy mode and Live Voicemail. The article that is linked contains information on all the intriguing new features in iOS 17.
Since the day of the announcement, Beebom staff members have been testing the iOS 17 Developer and Public beta versions on various iPhone models. With this update, we believe there are some significant improvements you may anticipate as well as those that, after the novelty wears off, you will quickly forget. It's crucial to note that not all of the previously mentioned features are immediately accessible, such as the new Journal app, which won't be released until later this year.
Humbly Request To All Visitors!
If you found above both downloading link expired or broken then please must inform admin by fill this Contact Us! Form