For its customers, Flipkart launched its own reward program, called Flipkart Plus. Customers will receive rewards through this program for each purchase they make through the Flipkart app or website. Additionally, they can benefit from free and quick delivery of the items they've ordered as well as early access to deals. Customers can also enjoy better customer service and rewards by earning coins, which they can then swap for benefits. Here's how to sign up without paying:
How to get free access to Flipkart Plus?
Customers must shop and accumulate 200 SuperCoins during the last 12 months in order to activate their Flipkart Plus membership. You can activate the Plus membership after obtaining the necessary coins. Simply tap the "Join Now" button on the Flipkart Plus subscription page to accomplish this. Users who sign up for Plus membership won't lose any Super Coin, it should be noted. There is a way for you to get free access to Plus Membership.
Step 1 through 4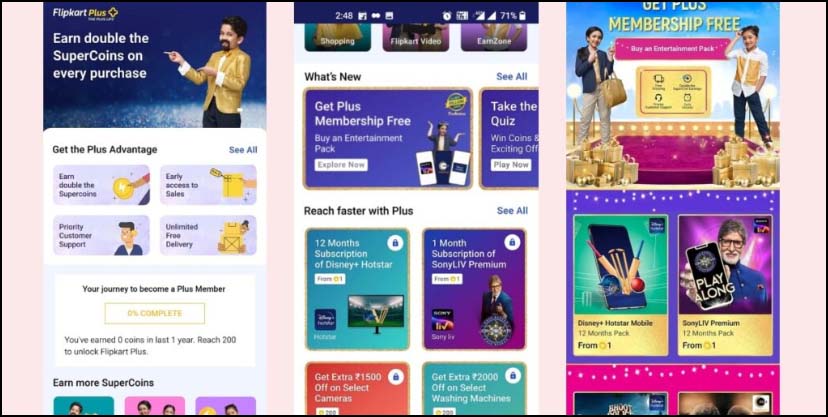 1. Simply touch on the Explore Plus banner in the top-left corner of your phone after logging into your account.
2. After completing the process, you will be taken to an explore page that lists all the advantages and offers available.
3. On the explore page, scroll down to the What's New section. The "Get Plus Membership Free, Buy an Entertainment Pack" banner should be clicked.
4. There are four options to choose from on the Plus-OTT page. Select an entertainment package for Flipkart Plus membership that fits your needs.
Disney+Hotstar Mobile 12 months pack (from 1 supercoin + ₹498)
SonyLIV premium yearly pack (from 1 supercoin + ₹498)
Disney+Hotstar Premium 12 months pack (from 1 supercoin + ₹1498)
Zee5 Premium 12 months pack with (0 supercoins + ₹498)
Step 5 through 6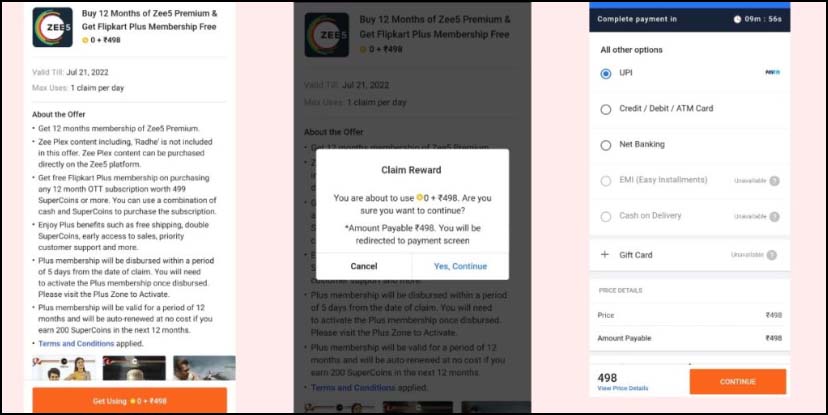 5. Next, press Get using, then touch Yes when it asks you to confirm your order and the price of the pack you selected.
6. You are then directed to the Payments page, where you may confirm your PLUS-OTT membership package and pay the required sum.
Note: From the date of claim, it will take 5 days to receive your Flipkart Plus membership. Nevertheless, you have already activated your Plus Zone membership during this period.
How to earn SuperCoins in Flipkart Plus?
For every 100 rupees purchased by Plus members, Flipkart will award four SuperCoins. While non-members would receive two SuperCoins for every Rs. 100 spent in retail sales.
For each order, Flipkart Plus members can earn up to 100 SuperCoins, compared to a maximum of 50 coins for non-plus members.
After the return time for every item in the order has expired, the coins collected will be credited to the user's account.
At the conclusion of the month in which they were credited, the SuperCoins will expire after a year.
Humbly Request To All Visitors!
If you found above both downloading link expired or broken then please must inform admin by fill this Contact Us! Form