News
How to Link Your Voter ID to Your Aadhaar Card?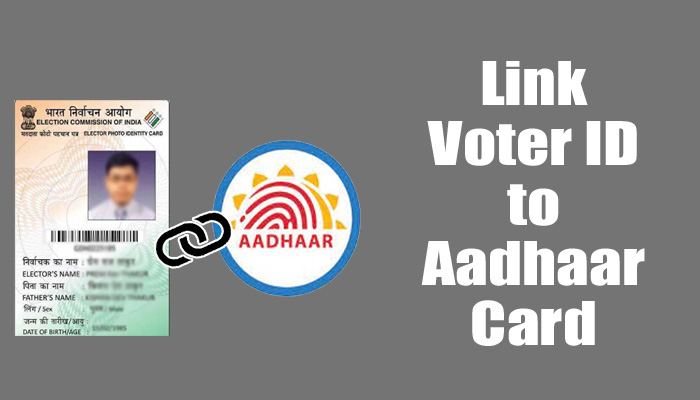 The importance of connecting Aadhaar cards to virtually every bank account and mobile SIM card has increased recently. Voter ID is not an exception, although other KYC documents have received more attention. We offer a solution if you haven't finished linking your voter card and Aadhaar card yet and are confused how to proceed. For your understanding, we have covered every step of the connection procedure in full below.
How to Link an Aadhaar Card to a Voter ID?
It is known as seeding to create an Aadhaar card and voter card link. There are numerous options for people to participate in the government's new initiative to remove duplicate voters. The following provides a thorough explanation of each method for connecting Aadhaar to Voter ID.
How To Onlinely Link An Aadhaar Card To A Voter ID?
Here is a step-by-step tutorial on how to online link an Aadhaar with a voter card.
Step 1: Visit the official NVSP portal.
Step 2: Select "Search Electoral Roll" from the menu.
Step 3: You'll be taken to an electoral search form on the next page. You have the option to "Search by Details" or "Search by EPIC No." here.
You must provide your name, age, gender, date of birth, assembly constituency, and address information for the former.
The second option allows you to search by state and EPIC number as an alternative.
Step 4: Type the security code and click "Search" after providing the necessary information.
Step 5: The following screen will reveal all of your Voter ID information if the information you supplied matches what is in the government database.
Step 6: On the left side of the screen, select the "Feed Aadhaar No." option.
Step 7: The next screen will prompt you to input your EPIC number, name as it appears on your Aadhaar card, UID number, and registered email address or cellphone number. Here, click "Submit."
You will receive a notification after completing the above procedure alerting you that the online registration of the Voter ID connection with the Aadhaar card was successful.
How to Use SMS to Link Voter ID to Aadhaar
Knowing how to link Aadhaar to Voter ID by SMS would come in handy if you are unable to finish the Aadhaar-EPIC linking process online.
Step 1: is to type an SMS using the format shown below.
ECILINKSPACE>Aadhaar No.>SPACE>EPIC No. of Voter ID Card No.
Step 2: Send it from your registered mobile number to 51969 or 166.
How to Connect Aadhaar to a Phone to Link Voter ID?
You can also contact and request that your voter card and Aadhaar card be linked. Call 1950 from your registered mobile number between the hours of 10 a.m. and 5 p.m., Monday through Friday. The customer service representative will then need your Aadhaar and EPIC numbers. Once the data have undergone verification, they will be linked. As soon as the procedure is finished, a phone call will let you know whether the Aadhaar card and voter card link was successful.
How to Offline Link Aadhaar Card With Voter ID?
Aadhaar card and voter card linking offline is an option for those who are having trouble completing the linking process using any of the aforementioned methods.
Step 1: Visit the nearest Booth Level Officer as the first step (BLO). On the ECI website's official page, you can find one.
Step 2: Fill out an application to link your voter card and Aadhaar card.
The BLO will then go through a thorough verification process before joining the two documents.
How to Use the Voter Helpline App to Link an Aadhaar Card to a Voter ID?
To give voters across the nation a single source of information and service delivery, the Election Commission of India established the Voter Helpline App. Additionally, using the Voter Helpline App, you may quickly link your voter ID to your Aadhaar card.
See The Steps Listed Below:
Step 1: download the Voter Helpline app from the Google Play or App Store.
Step 2: After the preliminary setup, choose "Voter Registration."
Step 3: Next, select "Lets Start" after clicking "Electoral Authentication Form (Form 6B)".
Step 4: The fourth step is to enter the official mobile number connected to your Aadhaar card.
Step 5: Type in the OTP you received on your registered phone number and click "Verify."
Step 6: After selecting "Yes, I Have a Voter ID," click "Next" and enter your voter identification number (EPIC) and any other information prompted.
Step 7: After entering your Aadhaar number, authentication location, and registered cellphone number, click "Done."
Step 8: Verify your information once again and press Confirm to submit your Form 6B in its entirety.
Why is it crucial to link Aadhaar to voter identification?
One of the government's many efforts to lessen the flow of black money into the economy is the initiative to require citizens to link their Aadhaar and EPIC. It's possible that having numerous voter cards is not a crime. But it's against the law to possess more than one voter identification card bearing your name.
Therefore, by integrating the two papers, you can prevent these hassles while upholding the legal significance of both the voter identification card and the Aadhaar card. Both of these KYC credentials are crucial, and linking your voter card and Aadhaar card will only help you access smooth services in the future. Read this comprehensive tutorial to link your voter card with your Aadhaar if you haven't already.
Humbly Request To All Visitors!
If you found above both downloading link expired or broken then please must inform admin by fill this Contact Us! Form