APPS
Best App Installation Guide On The Android TV In The 2023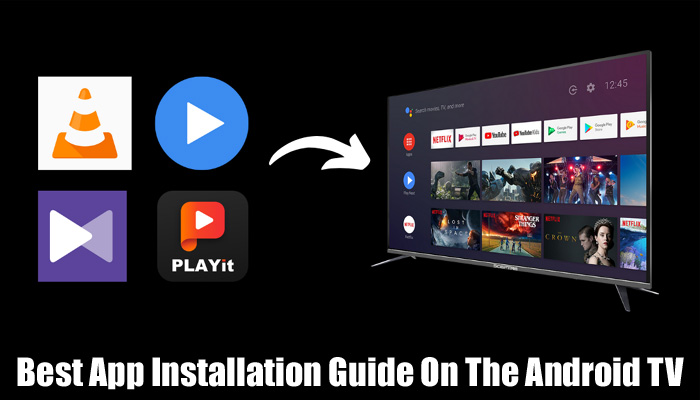 There are numerous ways to obtain a sizable number of applications from Google Play if you have an Android TV-enabled Smart TV. In this article, we'll show you how to remotely instal apps using your mobile device on your Android TV or manually instal apps to test those that are incompatible by default. Pick the approach you like best. The procedure is simple and won't take very long. Of course, if you want to manually instal the APK file, you might require a USB stick. But we'll also demonstrate a different approach.
Utilizing Your Smartphone, Instal Apps For Android TV
The easiest and most convenient way to instal apps on your TV is probably through your smartphone, which will be the one to tell Google Play to start downloading the programme to your Android TV. Open Google Play on your smartphone and look for an app to accomplish this. Anything that works with Android TV may be it, from a game to a streaming app.
When you open that tab, the instal button will have an arrow on it. By clicking this arrow, you can decide whether you wish to download the app for your phone or television. Your Android TV will start downloading it from Google Play as soon as it is turned on and connected to the Internet after you select what you want and click Install.
Manual install
You have the choice to manually instal apps on your Smart TV by running the APK file. similar to how you would with a smartphone. For testing apps that are by default incompatible with your television, this method might be quite intriguing. It is necessary to get the APK file for the TV from a reputable website, such as APK Mirror. After that, put it on a USB stick and plug it into the USB port on your TV.
The required file must then be clicked after starting the file explorer and selecting the USB stick. After that, if it is compatible, its installation will begin. And all you have to do is wait for it to be finished. Because of the Smart TV's structure and interface, many applications won't function with it.
However, you can instal an app named Send files to TV on your TV utilising the aforementioned approach if you don't have a USB stick or would like an alternative method for manually installing APK files on your Android smart TV. It is compatible with all Android TVs and is free to download. You can use this programme to transfer the APK file from your smartphone to your Smart TV. This programme allows for the quick and simple transfer of content other than APK files.
Installing Using A Computer
In addition, Google gives you the choice of downloading games and apps via the online app store. Moreover, put them on your Smart TV. On the Google Play website, you must first search for the application you want to download. Prior to being able to view its download page. By selecting the instal option, you may begin the installation process on the suitable devices you have added to your account. The application you want to instal will appear next to your smartphone, tablet, and other devices if you click this button and your Smart TV supports it.
As soon as you switch on your Smart TV and connect it to the Internet, the download of the application will begin. exactly as in the earlier techniques. You can benefit from doing so by employing the same method to download software for your tablet or smartphone. Additionally, you can limit the apps that show to those that are compatible with Smart TVs using filters on the home page.
Humbly Request To All Visitors!
If you found above both downloading link expired or broken then please must inform admin by fill this Contact Us! Form