Tips and Tricks
5 Awesome New Whatsapp Features That Will Simplify Your Life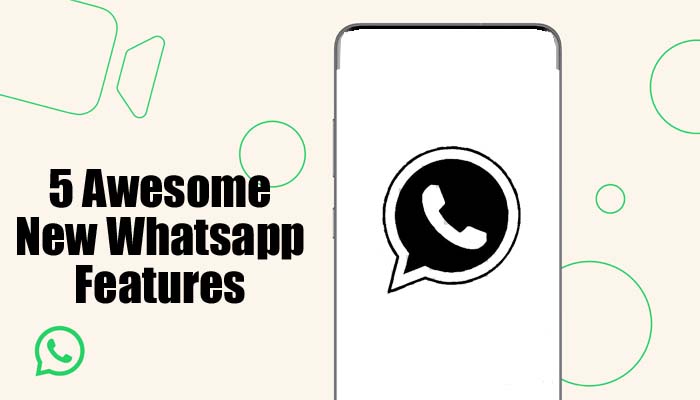 One of the most widely used instant messaging services worldwide, WhatsApp, frequently introduces new features. Many of these improve the app's functionality while others provide much-needed enhancements to the quality of life. Here are some of the newest WhatsApp features that might improve your productivity and overall user experience, ranging from sending HD photographs to group audio chats that resemble Discord.
Screen Sharing On Video Calls
The capability to share the screen during a video conference was unveiled by Meta CEO Mark Zuckerberg earlier this month. No matter what platform they are using, users may now effortlessly share their screen with others using the new capability. If you need to display something on your screen but don't want to use a program like Google Meet, Zoom, Discord, or Skype, this is a great option.
Start a video call with a person or group of people in WhatsApp, then tap the "Share" icon that appears at the bottom of the screen to share your screen. All callers will be able to see your screen recording after you grant the app permission to do so.
Send High Quality Photos
Even though WhatsApp may be the messaging app of choice for billions of people, up until recently, HD image sharing was not possible. Users were forced to use third-party services in order to transmit images, which was extremely annoying. However, the instant messaging service recently added the option to send HD photos and announced that it would soon add the option to send HD films as well.
Open a conversation and select the image you wish to share to send it in HD. You can share photos by tapping the 'HD' button that displays on the top bar of the photo-sharing screen. It should be noted that WhatsApp sends compressed photographs by default, therefore you must tap the option each time you want to send photos in high definition.
Voice Chats In Groups
WhatsApp is introducing a new tool dubbed "Voice chats" for users who want to talk to others in a group, comparable to Discord's voice chat and Twitter Spaces. The new 'Voice conversations' feature of WhatsApp sends a silent notification, unlike the group call feature that rang the entire group. The new feature allows you to join or quit the call whenever you wish, in contrast to "group calls," which require you to manually add people.
If you want to speak with group members but don't want to bother the others, it can be helpful. The group icon will automatically transform into a waveform icon and display a "Connect" button once someone starts a "voice chat."
Edit Sent Media Captions
Have you ever transmitted a media file on WhatsApp only to discover the caption was inaccurate or mistaken? WhatsApp now allows you to edit media captions rather than needing to upload the video file again or provide the captions separately. The functionality is identical to the messaging app's 'Edit message' option, which enables you to edit messages up to 15 minutes after they are delivered.
After sending a media message with a caption, you may update it by tapping on it. An edit button will appear that resembles the one used for text messages.
Humbly Request To All Visitors!
If you found above both downloading link expired or broken then please must inform admin by fill this Contact Us! Form