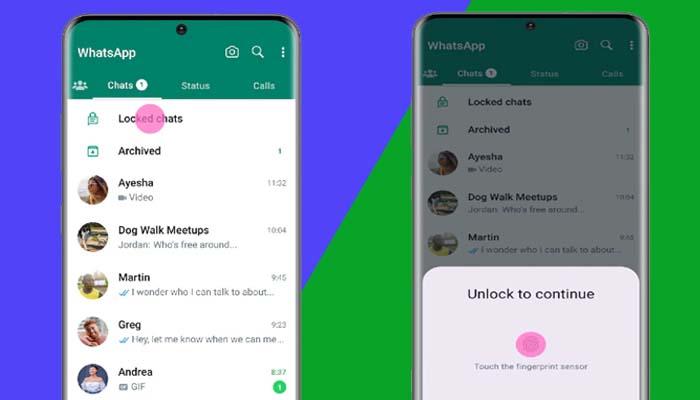 By Ankita Garg: As time goes on, WhatsApp continues to develop helpful features to give consumers a smooth experience. Several options are already available on the messaging platform for hiding your discussions. Using the Chat Lock function, which not only lets you hide chats but also enables you apply an additional lock to a single chat, is one of the finest options. Additionally, WhatsApp chats can be hidden by using the Archive option. Let's look at 2 quick methods for quickly hiding WhatsApp chats.
How To Quickly Hide Whatsapp Chats
Method 1:
The new Chat Lock feature that WhatsApp has made available to all users is the first approach. This is what it is, as implied by the name. Your extremely private chats will be able to have an additional lock added to them. The function is accessible on both iOS and Android. The function automatically turns off your alerts and only notifies you when a new message from a (locked) conversation has arrived.
Step 1: Simply enter any chat, browse the profile, then scroll down to touch the Chat lock button.
Step 2: Select either "Lock this chat with fingerprint" or Use Face ID to lock this chat.
Note: Your private chats are located in the Locked Chats folder, which is accessible from WhatsApp's home screen. To view this folder, you must scroll down the chats. From here, no one can access your chats unless they have their fingerprint saved on your phone.
Method 2:
Chats can also be hidden using the Archive option.
Step 1: Long-press on any chat in WhatsApp after it is open.
Step 2: The Archive icon is located in the top right corner. Tap it. The icon features a down arrow in a box.
Note: Your chats will be hidden after you complete the steps above. Both the top of all chats and the end of them in the Archive folder will display the hidden chats. If you prefer not to see this folder at the top, click to Settings > Chats and deactivate "Keep Chats archived."
Do bear in mind that the person's conversation will appear at the top if you get a message from that folder. Only those who want to temporarily hide chats should use this feature. Your chats will remain buried if you select the "Keep Chats Archived" option, but the folder will still be displayed at the top. The aforementioned chat lock function can be used by users who don't want their talks to appear at the top. Therefore, even if you receive a message from the locked chat, the lock will prevent anyone who has access to your phone from reading it. Your alerts are automatically hidden using the Chat Lock function.
Tip: You may easily install fingerprint lock to your WhatsApp app if you have privacy concerns. The app's Settings > privacy section contains the feature.
Humbly Request To All Visitors!
If you found above both downloading link expired or broken then please must inform admin by fill this Contact Us! Form