Tips and Tricks
On Android Smartphones, How To Stop Flash Messages (Airtel, Vodafone, Idea, Bsnl And Jio)
The use of standard text messages has almost completely disappeared as everyone has switched to instant messaging services like WhatsApp. Traditional SMS is no longer used, with the exception of OTPs and transactional messages. Due to the fact that few individuals check their SMS inbox, marketers have started sending obnoxious flash messages to promote deals. Flash SMS are undoubtedly bothersome because they block the entire screen with a popup and demand user involvement to close. Fortunately, there is a quick fix to permanently stop flash messages on any Android smartphone.
Your network service provider will likely be the source of the majority of the flash notifications, which are by default enabled. Few people know how to disable flash messaging because the option is obscured deep inside the settings. Flash messages jump up in the centre of the screen with the choice to accept or reject them, unlike regular notifications, which appear at the top and disappear automatically. These are usually messages for activating services, and if you unintentionally accept one, your network balance will be debited. You need to turn off flash messages on your Android device to stop the obtrusive pop-ups and unintentional service activations.
Although the procedure is extremely straightforward, each network provider will have a different service name. Don't worry; I'll list all the prominent networks' service names for you to deactivate in order to halt flash messages on Android smartphones and tablets.
How to stop Android flash messaging
Here is how to stop flash SMS on any Android smartphone in general. I used a Xiaomi Redmi Note 7 Pro with a Vodafone SIM for the instruction. For other network providers like Airtel, Idea, BSNL, etc., the deactivation procedures will essentially be the same. The name of the services you must deactivate will be the only difference.
Get your phone unlocked then head to the app drawer.
Open the SIM Toolkit application.
The flash SMS service can be tapped.
To activate, click.
Select Deactivate.
To confirm, click OK.
You won't ever again get a marketing flash message from your network operator after deactivating or stopping the service until you enable it again or reset your phone. The phrasing of the aforementioned procedures may have some variations if you do not utilise Vodafone. In some networks, for instance, it will be Stop / Start rather than Deactivate / Activate. Here are the precise service names and procedures for each service provider in order to eliminate any confusion.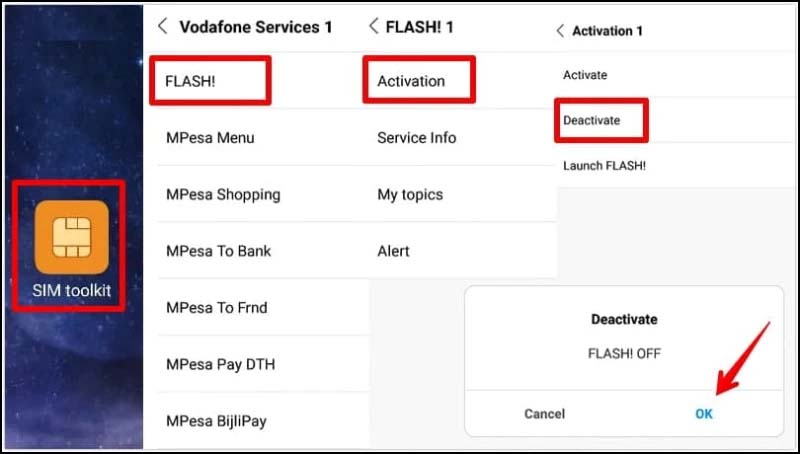 Bharti Airtel
Open the SIM toolkit application and select the Airtel Now! service to turn off flash messaging on Android on the Airtel network. To completely stop flash SMS, click Start / Stop and then choose Stop. You can also get an SMS message confirming the service's termination. Additionally, you can text STOP ANOW to 58234 to ask for the service to be turned off.
Vodafone
Open the SIM Toolkit software, click on FLASH!, and then choose the Activation option to block flash SMS on Android using the Vodafone network. Here, you must click Deactivate and then choose OK to confirm your choice.
Idea
You have two methods to disable flash messaging in the Idea network, just like Airtel. On your Android smartphone, open the Idea Power app, then select the Idea Flash service. To stop using the service, choose the Activation option and tap Deactivate. The alternate method is to use your phone's standard dialer and enter *121*46#.
BSNL
Android customers of BSNL must launch the BSNL Mobile app on their device and select the BSNL Buzz service. To turn off flash SMS on your BSNL cellphone, tap Activation, choose Deactivate, then press OK.
Reliance Jio
In the case of Reliance Jio, the procedure is complicated. Unfortunately, there is no SIM toolkit programme for Android phones with Jio SIMs that allows you to turn off any network services. Contacting customer service at @JioCare and providing your mobile number is the easiest approach to stop fullscreen pop-up overlay adverts in Jio. At the server level, they can disable these adverts for your phone number.
What about Class 0 messages?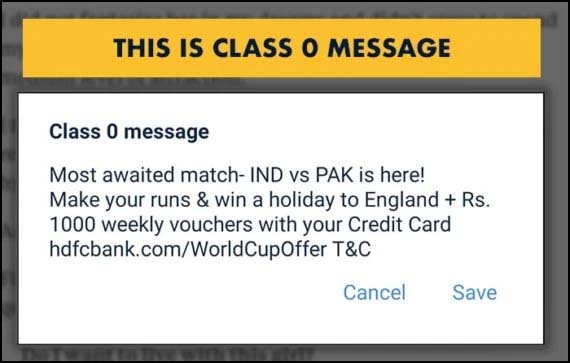 Flash messages must be class 0 messages if you occasionally still receive them while having them disabled. The worst thing about class 0 messages is that there is no way to stop them. Class 0 messages cannot be blocked and are difficult to track down their originator. Do not hesitate to contact customer service if you frequently receive class 0 messages; they may be able to block the message at the server end.
On Android mobile devices, you can disable or halt flash messages using this method. I've discussed a number of networks' services, along with their names. For dual SIM mobile devices, you must first choose the network after starting the SIM toolkit software; the rest of the procedures are the same. We sincerely hope that this post was helpful and that you were able to simply stop flash messaging on Android devices.
Humbly Request To All Visitors!
If you found above both downloading link expired or broken then please must inform admin by fill this Contact Us! Form