Website
On Android, How Do You Join WhatsApp Beta?
WhatsApp, which is owned by Meta, is constantly adding new features and making adjustments to the app. They make these improvements and enhancements available for public testing through their Beta programme. People who sign up to be WhatsApp Beta testers get these features before the rest of the world. Anyone with an Android phone can join WhatsApp Beta and receive these beta updates.
Why WhatsApp Beta?
Meta uses WhatsApp Beta to test forthcoming features with a limited percentage of their user base. As a result, anyone can try out these features and provide comments. WhatsApp can correct problems and flaws in the instant messaging software after getting input and then distribute it to everyone. Beta testers for WhatsApp are people who participate in the WhatsApp beta programme. Beta testing is a crucial stage in the development of any software since it allows developers to test new features without hurting a significant number of customers.
This post will show you how to join WhatsApp beta on your Android phone. If you receive a message that says "Beta Program is full," you can still join the Beta programme by following the steps in this tutorial.
How to Sign Up for WhatsApp Beta on Android
Are you looking forward to joining WhatsApp's Beta tester community? This step-by-step instruction is being shared with you so that you can join WhatsApp beta and test the new and upcoming features before anyone else. To join the WhatsApp beta on an Android device, follow these steps:
1. To begin, open this link in Google Chrome or any other browser on your Android device.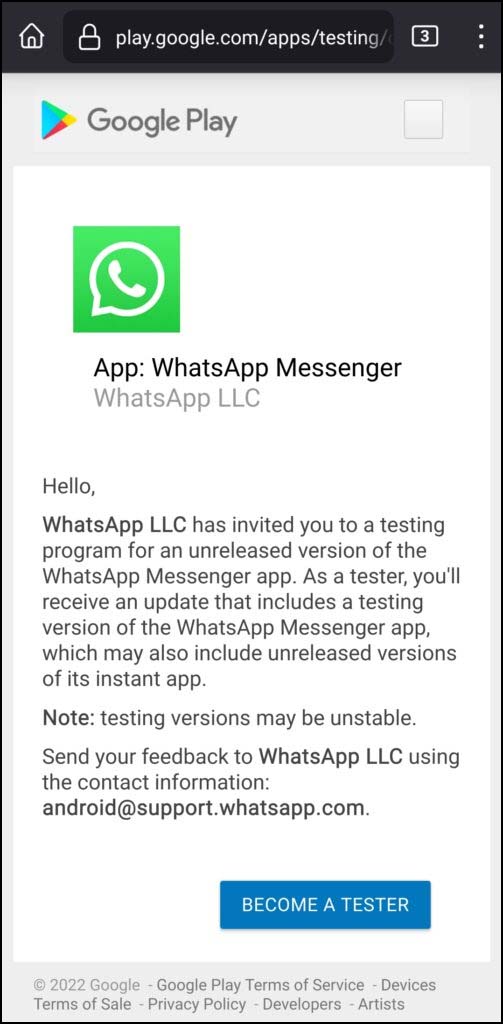 2. You must click the BECOME A TESTER button on the WhatsApp Beta app testing page.
3. You're now a member of the WhatsApp Beta testers. WhatsApp beta updates will be sent to your Android smartphone.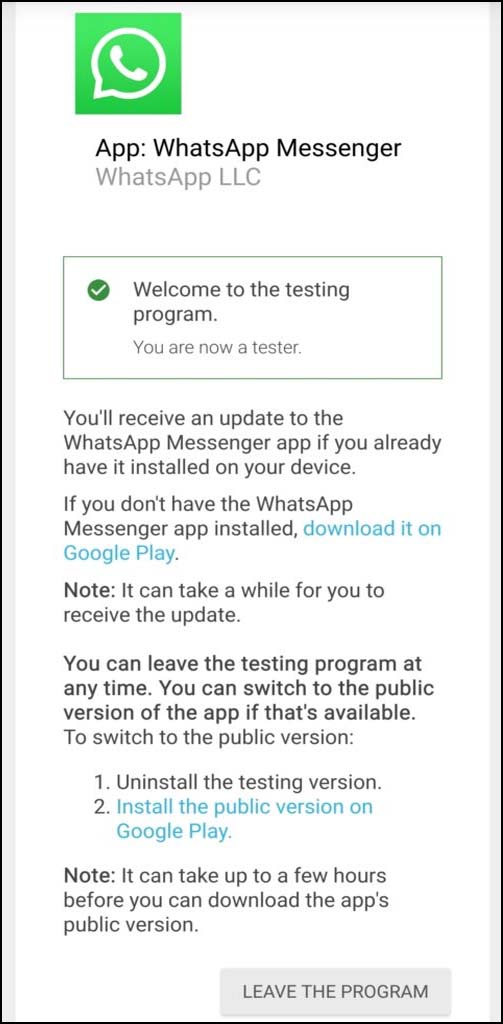 4. If you search for WhatsApp on the Play Store, the first result will be WhatsApp Messenger (Beta), indicating that you have joined the WhatsApp Beta programme.
You have successfully joined the WhatsApp Beta tester community on Android after following this guide. On your Android phone, you will receive WhatsApp Messenger Beta updates. Please follow our step-by-step tutorial to exit the WhatsApp beta on Android.
Steps to Leave WhatsApp Beta on Android
Have you lost interest in being a WhatsApp Beta tester? If you're feeling overwhelmed by the large number of beta updates or app crashes. You may, of course, uninstall WhatsApp beta on Android at any moment. To exit the WhatsApp beta on Android, follow this step-by-step guide. On an Android device, follow these steps to exit WhatsApp beta:
On your Android device, go to Google Play Store.
Go to the Google Play Store and look for WhatsApp Messenger.
The first result when you open WhatsApp Messenger Beta is
Scroll down to the section about the Beta Program.
To exit WhatsApp Beta for Android, click the Leave button.
You can now exit WhatsApp Beta on Android after completing these steps. You will no longer receive any WhatsApp Beta updates.
Humbly Request To All Visitors!
If you found above both downloading link expired or broken then please must inform admin by fill this Contact Us! Form