Doston, Aaj apko bataayenge ek aisaa Android aur iOS aap jo sabhi phones ke upar 100% install hona chahiye, kyunki ye app apko batata hai apke phone ke bare mein sab kuch. Ji haan, TestM naam ka mobile app apke smartphone ki karega poori test and first karega certify. Agar apke paas purana phone hai aur apko check karna hai ki apka smartphone ka hardware aur software baraabar chal rahaa hai ya nahi toh TestM app jaroor install kijiye. Is video mein maine apko batata hoon ki aap ye app apka phone free mein kaise test karega.
Check your phone works properly, test mobile device hardware & get full info. Want to check your phone's hardware, sensors and components, to make sure everything is operating properly? Need to fix your Android smartphone or tablet?
Use TestM app to get a full phone info and device status before you go into the lab!
Check your phone easily!
TestM is a FREE full hardware diagnostic app available for your smartphone and mobile device. Use TestM to check your phone info & specs, get a full report to repair just what you need to and no more. Create accurate online certificates to buy or sell your phone.
The Most Accurate & Easy Mobile Tester App
• Pinpoint problems with your phone, tablet or smart device
• 20+ comprehensive tests for all aspects of your device
• Compatible with more than 14,000 Android and iOS devices!
• Verify you're not buying a stolen phone with the IMEI check
• Make sure device is unlocked and ready for use in your country
• Supports over 20 languages
Hardware Check and Report for your Device
Complete the phone IMEI check and receive a full status report online, and within minutes, get an accurate objective report with all your phone info, that can be repair your phone.
TestM reports are easy to understand, simple to produce, and available online anywhere, anytime, for any smartphone or mobile device and you can also set reminders to check your device every time you like.
List of Tests Included in the app:
• Screen test: Touch Screen, 3D touch
• Sound test: Speakers, Earpiece, Microphone, Headphones
• Motion: Gyroscope, Accelerometer, Compass
• Connectivity test: WiFi, Bluetooth, Cellular, GPS
• Hardware test: Light Sensor, Charger, Vibration, Proximity Sensor, Fingerprint Sensor
• Camera test: Front Camera, Back Camera, LED Flash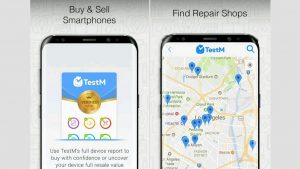 Thanks to TestM you'll know exactly what's need to be fixed on your Android device and you won't be wasting time and money anymore on your phone or tablet.