News
The BJP Runs The Wife Of Cricketer Ravindra Jadeja In Jamnagar And Has Its Faith In Her "Following, Humanitarian Activity."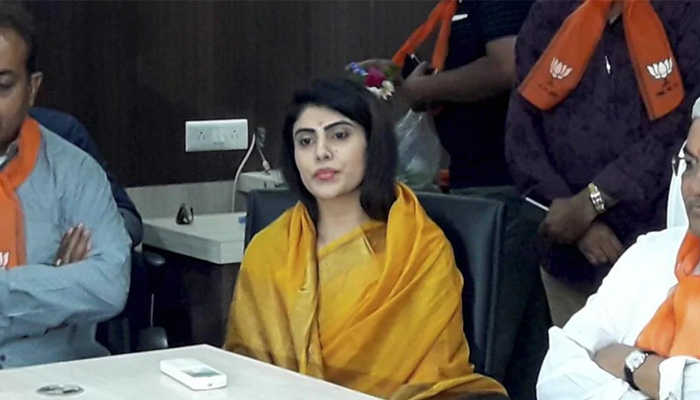 Rivaba Jadeja, the spouse of cricketer Ravindra Jadeja, was named as the Bharatiya Janata Party's (BJP) candidate for the Jamnagar (North) assembly constituency on Thursday. The Gujarat assembly elections are set to take place next month, and the BJP on Thursday unveiled its preliminary list of candidates.
As the BJP candidate for the Jamnagar (North) seat, Rivaba takes the position of current MLA Dharmendrasinh Jadeja, who was reportedly denied a party ticket for this election. Rivaba's declaration of her candidacy coincides with the BJP's battle against anti-incumbency feelings in Gujarat, which it has ruled for the previous 27 years.
The MLA received criticism from the Gujarat high court on Wednesday for his "participation in mob violence and rioting in 2007," and the court rejected a request to drop the charges brought against him and others. According to the court, the state government was attempting to save him "somehow and at any cost" under the guise of a greater public good. According to a BJP insider, "This went against the sitting MLA, not just the court ruling but also several accusations from people in the industrial sector about his suspected illegal behaviour."
A number of incumbent MLAs, including Vijay Rupani, Nitin Patel, and former cabinet minister Bhupendrasinh Chudasama, were agreed to be removed from the list of candidates during the party's election committee meeting on Wednesday, which was presided over by Prime Minister Narendra Modi.
Given her ties to politics as the niece of Congressman Hari Singh Solanki, Rivaba, 32, who joined the BJP in 2019, is not an unfamiliar face in the political world. Nayanaba A. Jadeja, her sister-in-law and Ravindra Jadeja's older sister, joined the Congress in 2019. She is a leader in the party. Aniruddhsinh Jadeja, Rivaba's father-in-law, had also joined the Congress at the same time.
There is widespread speculation that the Congress may nominate Nayanaba to run against Rivaba in Jamnagar (North), a district where Rajput votes, according to sources in the Congress, predominate. Rivaba is the ideal candidate to win this seat because of her strong support from locals and her involvement as a social worker, according to Vimal Bhai Mothara, the BJP's Jamnagar district president. "Even the prime minister has acknowledged Ravindra Jadeja and his wife several times for their contributions in the fields of cricket and humanitarian activities," he continued.
Who is Rivaba Jadeja?
A source close to the family claims that Rivaba was born in Rajkot, Gujarat, as Richa Solanki. She married Ravindra Jadeja in 2016; she is a professional mechanical engineer. While her father-in-law was originally in the army, her father is a businessman. Rivaba, who formerly belonged to the Hindutva group Karni Sena, has been involved in humanitarian work since 2017–18, focusing on the Rajput community. "Jadeja's mother wanted him to become a cricketer, but his father wanted him to join the army," the family source claimed. But when Jadeja was 17 years old, she passed away, and it was his sister Nayanaba who assisted him in realising his mother's wish.
Jadeja dedicated his maiden victory as the captain of the Chennai Super Kings to his wife Raviba during the 2022 Indian Premiere League competition earlier this year (RCB). In 2019, Rivaba was admitted to the BJP. She was photographed last month attending a Bhagwat Katha ceremony that Dharmendrasinh had organised.
Appeal against Dharmendrasinh
The delimitation process in 2008 resulted in the creation of the assembly constituency of Jamnagar (North), which is only 40 kilometres from the district's Reliance Industries address. Dharmendrasinh Jadeja won the seat in 2012 on a Congress ticket, but he later changed his allegiance to the BJP and won it again in 2017, this time on a BJP ticket.
However, in a covert attack on Dharmendrasinh, YSR Congress Party Rajya Sabha MP and Reliance insider Parimal Nathwani pleaded with parties not to give tickets to persons accused of criminal activity last month. Since Jamnagar was an industrial town, the MP claimed, any candidate running for office there needed to be "clean." While the Congress is rumoured to be considering running Jadeja's sister Nayanaba against his wife in Jamnagar, the Aam Aadmi Party has declared former deputy mayor of Jamnagar and businessman Karsanbhai Karmur as its candidate here (North).
Humbly Request To All Visitors!
If you found above both downloading link expired or broken then please must inform admin by fill this Contact Us! Form