News
List Of 59 Chinese Apps Banned In India By Indian Government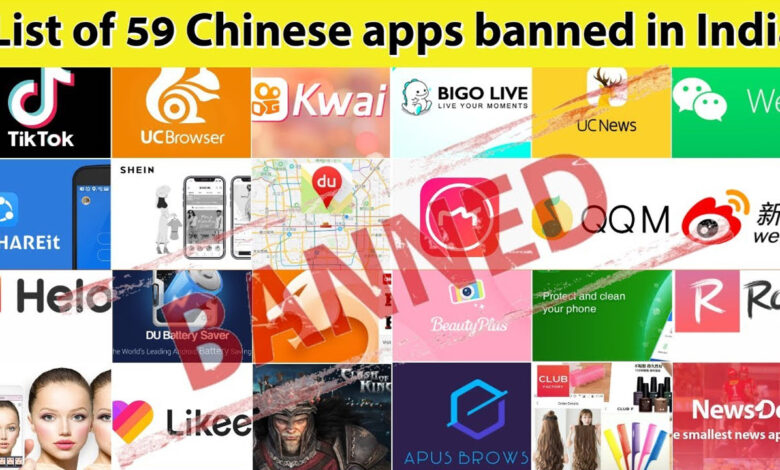 The government banned 59 Chinese smartphone apps, including top social media sites such as TikTok, Helo and WeChat, to combat the danger to the "sovereignty and stability" of the country posed by such apps, it said in a press release late Monday. ShareIT, UC browser and shopping app Clubfactory are among other popular apps that were blocked two weeks ago in the face of rising tensions between India and China after border clashes.
The government said the applications are engaged in practices "prejudicial to India's sovereignty and independence, protection of India, state security and public order." The ban was enforced pursuant to Section 69A of the Information Technology Act read with the related provisions of the Information Technology (Procedure and Safeguards for Blocking Access to Information by Public) Regulations 2009, it sai The government also cited complaints about data being transferred abroad without authorisation from Indian users.
The move could come as a blow to China's ambitions on the Digital Silk Route, eroding corporate valuation. This could also lead to more countries taking the cue from India and acting against these applications, sources told ET. A top official said all things had been weighed by the govt before the decision was made. "These apps have been around for a long time and they have some privacy and security problems with them including the risks of data leaving the world," the individual said.
The Ministry of Electronics and IT (MeitY) statement said that it had received complaints from various sources, including several reports about the misuse of some mobile apps to steal and sureptitiously transmit user data to servers outside India.
Ban Recommended by MHA
"Compiling the data, its mining and profiling by elements hostile to India's national security and safety, which ultimately impedes India 's sovereignty and dignity, is a matter of very profound and immediate concern that needs emergency measures," she said. "Aspects relating to data security and the preservation of the privacy of 130 crore Indians have raged. Recently it was noted that these issues often pose a danger to our country's sovereignty and security.
The Coordination Center for Indian Cyber Crime, part of the Ministry of Home Affairs, has sent a "exhaustive recommendation to block malicious software," said the press release.
The Internet Freedom Foundation said, "This is not a legal order given under Section 69A. Our first concern is accountability and disclosure." These cases needed to be considered individually and not in the aggregate, the advocacy organization tweeted.
"Concerns about data security and the privacy of citizens have legitimacy," it said. "This can be achieved through regulatory processes which emerge from objective measures based on facts. This ensures credible action that protects the interests of individual rights, creativity & security.
Spokespeople for ByteDance, TikTok and Helo's owners, and Alibaba, who owns UC Browser, said they couldn't immediately comment.
WELCOME MOVE
InMobi, the ad tech firm owns Roposo, a video app competing with TikTok, said the move would open up the market for its product while ShareChat, the Indian social network, welcomed the move by the government.
Bolo Indya, a rival to TikTok, says his bigger rival would profit from the ban. "We welcome the decision, as we share the government's concerns. This is the chance for Bolo Indya and other Indian apps to deliver value, holding Indian culture and data security to the top priority, "said Varun Saxena, its co-founder and CEO.
LEGALLY SOUND
Analysts said the move would affect apps in China.
"This puts tremendous economic strain from a political viewpoint, as these apps were heavily dependent on Indian markets. This is sound from a legal viewpoint, as grounds such as national security are difficult to challenge in a court of law, "said Santosh Pai, Link Legal 's partner, who monitors Chinese investment in the country. "If this is going to be the current state of affairs, we need to see whether Indian apps are going to fulfill the need or whether American apps are taking market share."
Investors in Indian social apps say that the ban on Chinese apps would bring down competition.
"The threat to productivity is going to go down. Yet the expert innovation of Chinese software inspires a lot of apps in India. Overall the creativity of the ecosystem will slow down," said Deepak Gupta, WEH Ventures' founding partner, who has invested in Indian video blogging platform Trell.
Here's a full list of the banned apps:
1. TikTok
2. Shareit
3. Kwai
4. UC Browser
5. Baidu map
6. Shein
7. Clash of Kings
8. DU battery saver
9. Helo
10. Likee
11. YouCam makeup
12. Mi Community
13. CM Browers
14. Virus Cleaner
15. APUS Browser
16. ROMWE
17. Club Factory
18. Newsdog
19. Beutry Plus
20. WeChat
21. UC News
22. QQ Mail
23. Weibo
24. Xender
25. QQ Music
26. QQ Newsfeed
27. Bigo Live
28. SelfieCity
29. Mail Master
30. Parallel Space
31. Mi Video Call – Xiaomi
32. WeSync
33. ES File Explorer
34. Viva Video – QU Video Inc
35. Meitu
36. Vigo Video
37. New Video Status
38. DU Recorder
39. Vault- Hide
40. Cache Cleaner DU App studio
41. DU Cleaner
42. DU Browser
43. Hago Play With New Friends
44. Cam Scanner
45. Clean Master – Cheetah Mobile
46. Wonder Camera
47. Photo Wonder
48. QQ Player
49. We Meet
50. Sweet Selfie
51. Baidu Translate
52. Vmate
53. QQ International
54. QQ Security Center
55. QQ Launcher
56. U Video
57. V fly Status Video
58. Mobile Legends
59. DU Privacy