UNIQUE TRICKS
Latest BGMI Sensitivity Settings For All Android Users in 2023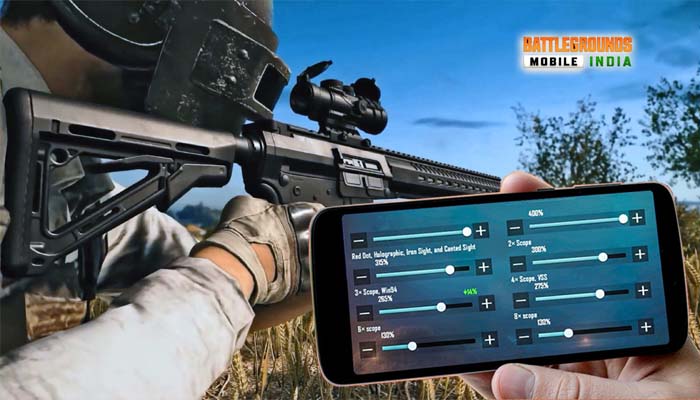 Players' abilities in BGMI and PUBG Mobile are primarily determined by their aim and movement. Recoil makes it difficult for many people to manoeuvre skillfully and deliver effective head and body shots. Players might concentrate on improving in-game sensitivity as a result for improved outcomes.
Players can modify the sensitivity settings for the camera, aim down sight (ADS), and gyroscope in Battlegrounds Mobile India and PUBG Mobile. Additionally, one can choose the optimal sensitivities and optimise the settings for various scopes, allowing users to control the character's movement, recoil patterns, and targeting. The ideal sensitivity settings for Battlegrounds Mobile India are presented below for players to adopt in 2023.
The Best BGMI Sensitivity Settings For The Camera, Gyroscope, And Screen
One can change four parameters under the Sensitivity tab of the BGMI's settings to suit their preferences. The third and fourth sensitivity settings work by sliding and swiping across the screen, while the fourth controls the gyroscope. The optimum settings for the Krafton-backed Battlegrounds Mobile India are as follows:
Screen sensitivity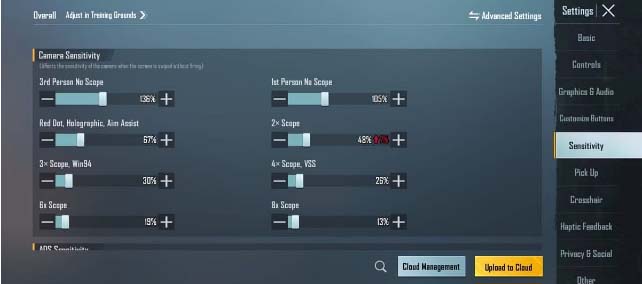 When players do not use the Fire button on the HUD, camera sensitivity typically predominates the swiping and sliding. Therefore, regardless of the use of any scope, this option affects the adjustment of the aim or the movement of the characters. As a result, the following sensitivity settings should be used to better manage movement and aim when not firing:
3rd Person (TPP) No scope: 136-144
1st Person (FPP) No scope: 101-110
Red Dot, Holographic, Aim Assist: 66-75
2x Scope: 46-55
3x Scope: 28-37
4x Scope: 21-30
6x Scope: 17-26
8x Scope: 7-16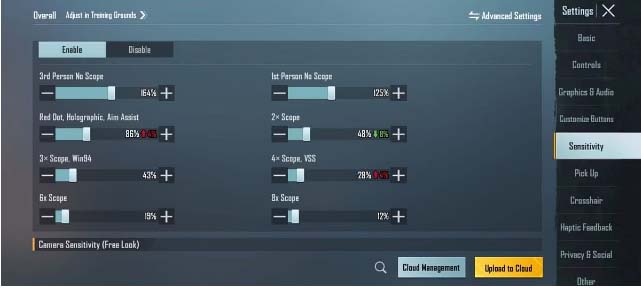 Players can regulate how their guns' barrels travel by adjusting their ADS sensitivity. As a result, it helps one manage the recoil characteristics of various firearms. To effectively control recoil, the following settings are quite beneficial:
3rd Person No scope: 161-170
1st Person No scope: 121-130
Red Dot, Holographic, Aim Assist: 82-93
2x Scope: 56-65
3x Scope: 42-53
4x Scope: 24-33
6x Scope: 16-25
8x Scope: 6-15
Camera Sensitivity (Free Look)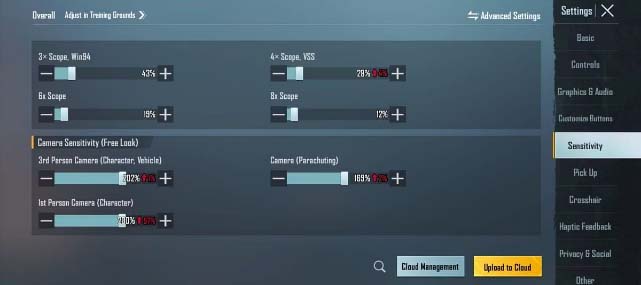 By adjusting the Free Look sensitivity, users can quickly and effortlessly use the eye button to scan their surroundings without having to swipe or slide. The optimal sensitivity options for this aspect are as follows:
3rd Person Camera (Character, Vehicle): 201-210
Camera: 166-175
1st Person Camera (Character): 196-205
Gyroscope
Gyroscope Sensitivity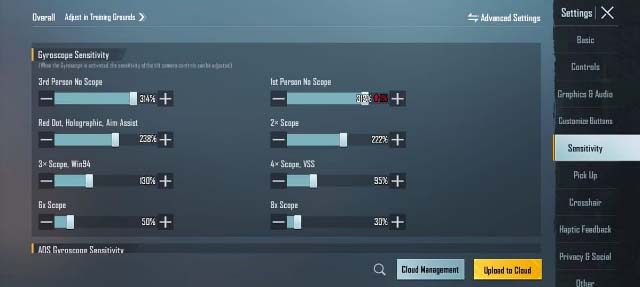 Players who have allowed the gyroscope in BGMI to receive aid with movement by swiping and sliding are the only ones who have the ability to change its sensitivity levels. Gyroscope use typically gives an advantage during combat because it enables better control of the lateral or vertical movement that helps with aim and recoil. Here is the sensitivity setting for BGMI that makes it simple for players to use the gyroscope:
3rd Person No Scope: 311-320
1st Person No Scope: 311-320
Red Dot, Holographic: 236-245
2x Scope: 216-225
3x Scope: 127-136
4x Scope: 93-102
6x Scope: 46-55
8x Scope: 30-39
ADS Gyroscope Sensitivity
The recommended settings for ADS Gyroscope Sensitivity can be copied by players.
Humbly Request To All Visitors!
If you found above both downloading link expired or broken then please must inform admin by fill this Contact Us! Form