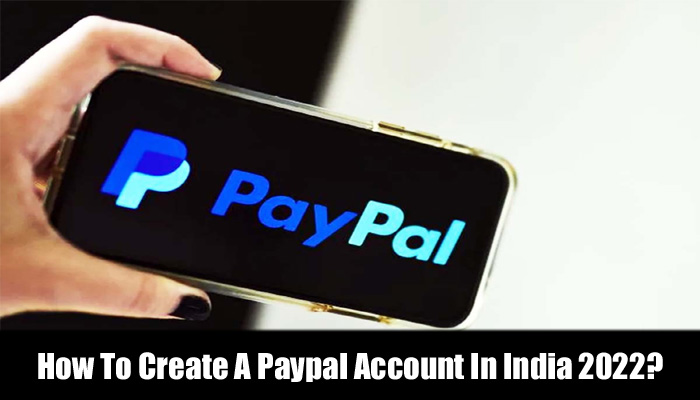 Indian citizens can use the services of PayPal, one of the top providers of digital wallets for international money transfers. But because PayPal India functions differently nationally, there are a few things to be aware of before you sign up. Look at the explanation of how PayPal functions in India to see how special it is. how to open an account, etc. It need not be difficult or expensive to send money to India.
Using PayPal in India
Individuals and businesses in India can open accounts with PayPal India, however the service's features are restricted. First off, customers can only use PayPal at the stores and brands listed on the PayPal Shopping homepage. Instead, you must connect your debit or credit card to your account in order to be able to pay for any purchases you make from PayPal vendors. So that's it. It is a different situation if you own a firm. PayPal allows you to accept payments from 200 different nations internationally. Although it can be used for domestic transactions as well, it may be more expensive than payment gateways made by native Indians.
You can send payments using your PayPal India account if you have a registered business account. Therefore, you can utilise your account to make payments to partners or suppliers alike. However, it is a good idea to keep an eye on your fees when using a business account. Fees for international payments are 4.4% plus a fixed currency cost. This is in addition to a charge for currency conversion and an exchange rate determined by PayPal.
The mid-market exchange rate that banks use internally differs from this rate. The exchange rate that appears on Google and Reuters is also the mid-market rate. There is a potential that you are paying a markup on your rate if the exchange rate you are paying differs from the mid-market exchange rate. You should also be aware that a PayPal India business account clears your balance daily into your local bank account.
Step By Step Guideness To Open A Paypal India
There are multiple procedures for opening an individual account, a business account, or a freelancer account on PayPal India. A step-by-step tutorial for setting up your PayPal account in India is provided below:
For individuals
Visit PayPal's website and select "Sign up."
Choose a Personal account.
Type your phone number and other information in
For your account to be finished and verified, adhere to the instructions.
Businesses
Visit PayPal's website and select "Sign up."
On the screen, select Business Account.
Select the payment type you desire to receive from the drop-down box, along with your USD-based annual sales volume.
After that, input your email address and business information before pressing the Continue button.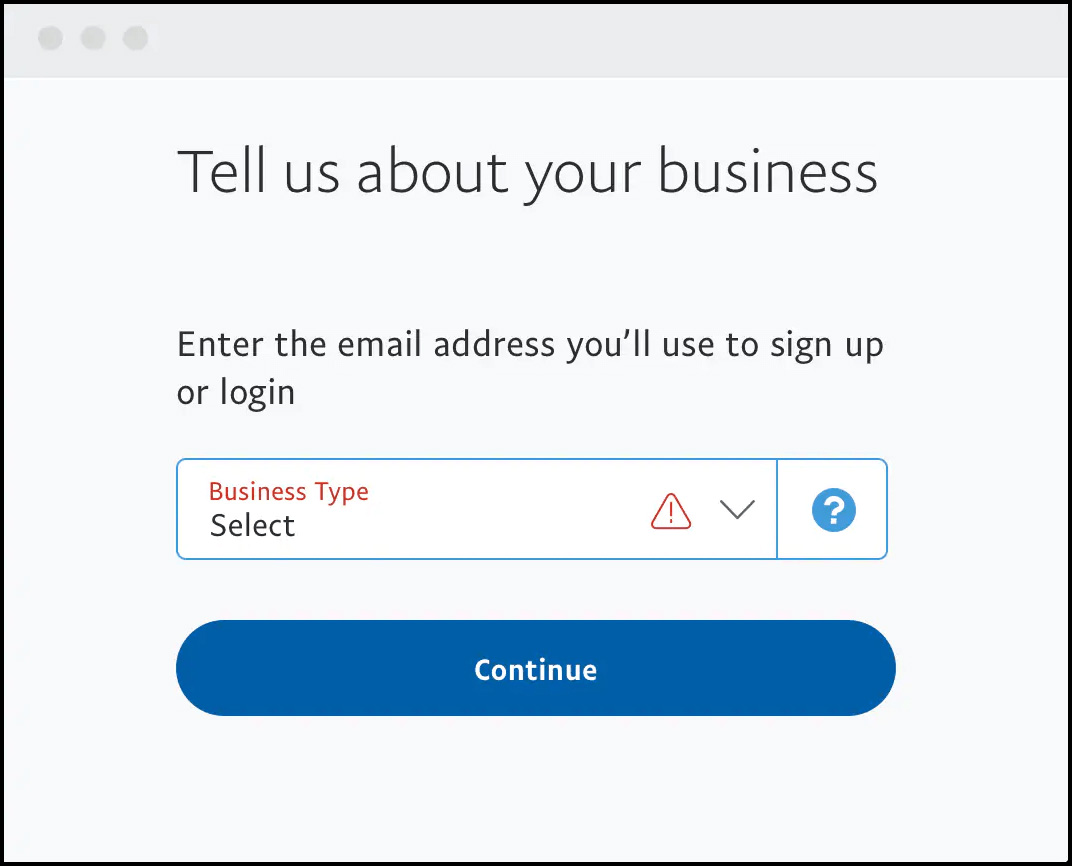 Give further business information using the dropdown menu, such as your company PAN and the date of incorporation, and then click Continue.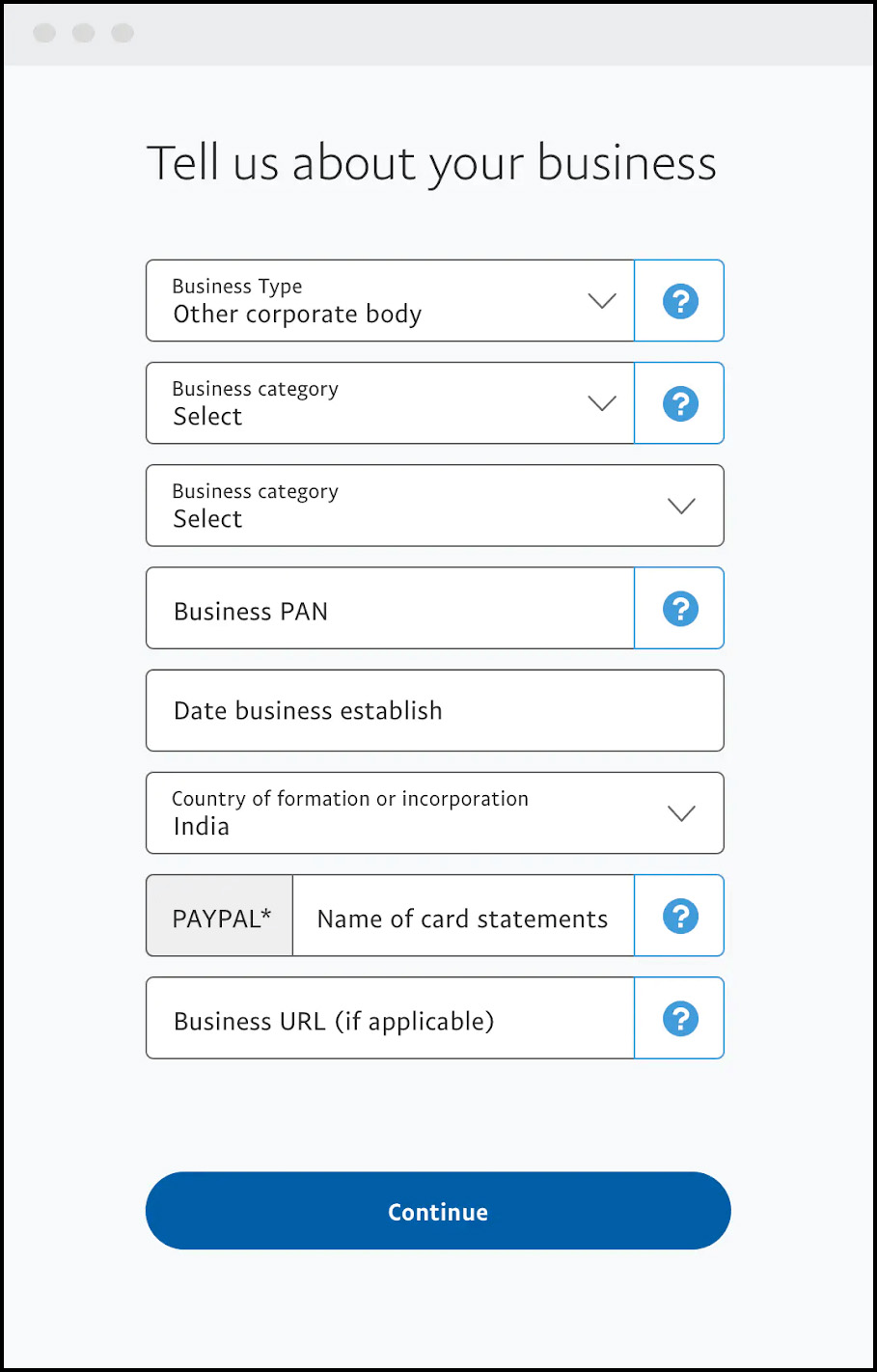 Before your account can be opened, PayPal might require some details. To finish and verify your account, follow the instructions.
How To Make Your Paypal Account Verified?
You must finish PayPal India's verification process before you can start using your account.
For individuals
Your debit or credit card must first be connected to your PayPal account. By entering your card information in the Payment Methods section of the dashboard, you can do that. A one-time password (OTP) provided to the registered mobile number can be used to verify your debit or credit card. See the section below for information on how to verify a bank account.
For Businesses
Your account needs to be verified and activated. Here's how to accomplish it:
1. PayPal sent you an email to validate the supplied email address after you signed up. The email's confirmation button should be clicked.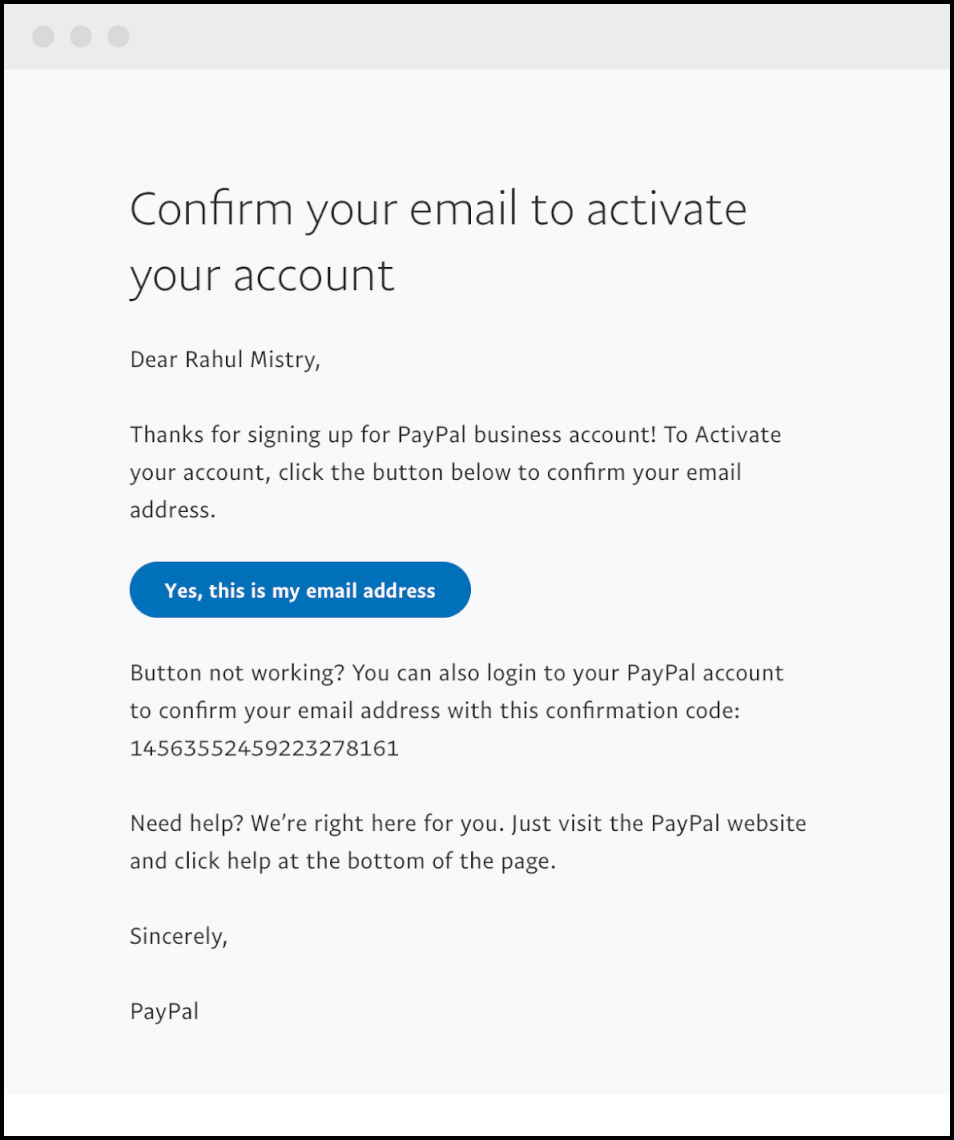 2. The Know Your Customer (KYC) process must then be finished in order to validate your company account. You might need to give PayPal other papers, depending on the kind of business you conduct.
3. Connect your PayPal account to your company's bank account. Verify that the PAN information you gave PayPal matches the information on your business bank account.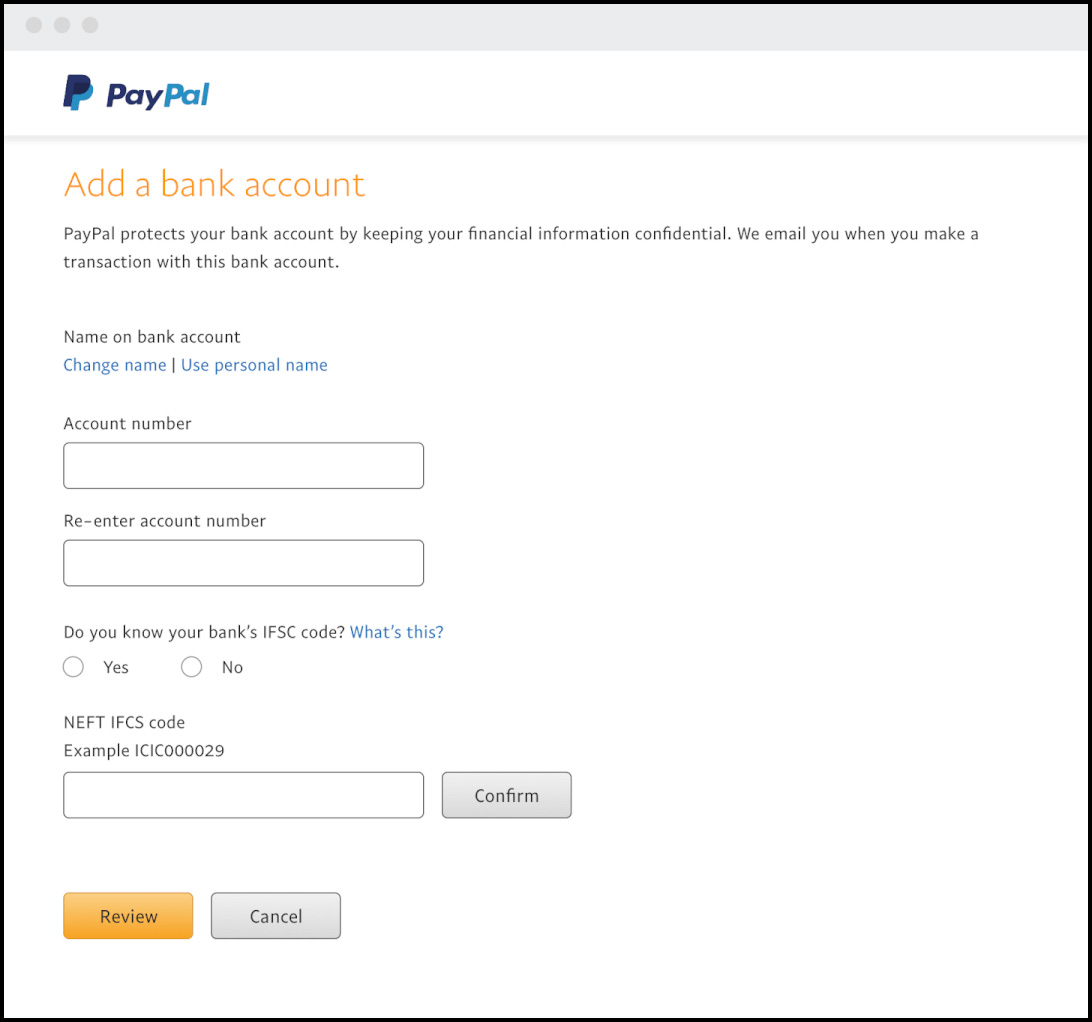 Make sure you are prepared and have access to your Bank name, IFSC code, and Account number.
How To Use Paypal To Verify Your Bank Account?
You must go through a similar process to verify and confirm your linked bank account for both your personal and business PayPal accounts. In order to do this, PayPal will make two tiny transfers to the bank account you provided, ranging in value from $1.01 to $1.50 each. To find out the precise amounts deposited, check your bank account or bank communications. It can require 4-5 business days.
You can verify your bank account by inputting the specific amounts under the Payments Method page once you have the specific amounts that were deposited in your account. Your bank account is verified if the sums are the same.With all that you can and cannot do with PayPal, it can at times feel bewildering. So let's review a few crucial queries.
What Is Required To Open A Paypal Account?
You'll need a working phone number and email address in India in order to setup a personal PayPal account. You must next connect a bank account, debit card, or credit card to your PayPal account in order to make purchases. Moreover, confirm that overseas transactions are permitted on your bank account. You must have a PAN number and a legitimate, registered business in order to open a business account.
A business bank account that matches your PAN information is also required. In addition to these things, you might need to present more proof of your company's legitimacy and your field of expertise.
A PayPal account is it free?
Opening and maintaining a PayPal account is free. However, there are costs associated with utilising your PayPal account to conduct transactions, particularly for businesses. First, for any overseas transactions, you will be responsible for paying PayPal's currency rate. In order to smuggle in a charge, PayPal has an exchange rate that is different from the mid-market exchange rate. even for people who do their purchasing online.
However, if you are a business, you will have to pay more for local and foreign transactions.
| Transactions | Fee |
| --- | --- |
| Standard India- Domestic | 3% + ₹3 |
| Domestic Debit card through RuPay, UPI, BHIM-UPI, or UPI QR Code | 2.5% +₹3 |
| International Transactions | 4.4% + fixed fee |
The foreign exchange rate from where the payment is made determines the set fee for international transactions. See the example of the set fee below:
| Currency Home Country | Fixed Fee |
| --- | --- |
| Australia | .30 AUD |
| Euro | .35 Euro |
| US dollar | .30 USD |
| United Kingdom | .20 GBP |
In addition to the exchange rate, you will also pay a currency conversion fee.
Check the PayPal fees calculator before sending a payment to find out the actual amount you'll have to pay. For more information about your options, utilise the comparison tool.
PayPal can appear pricey and significantly reduce payments from clients outside of the United States. To get a better bargain on foreign payments, make sure you investigate online global payment providers.
Is Creating A Paypal Account Secure?
It's completely secure to use PayPal. PayPal, one of the first operating international payment systems, provides 180 days of buyer protection for refunds, 24/7 online fraud monitoring, and selling protection. PayPal is a widely used payment processor among well-known international brands. With a resolution centre, community support, and tailored assistance for any concerns with your account, PayPal offers strong customer service.
Humbly Request To All Visitors!
If you found above both downloading link expired or broken then please must inform admin by fill this Contact Us! Form