News
Here's How To Obtain The Yellow Verification Tick For The Koo App.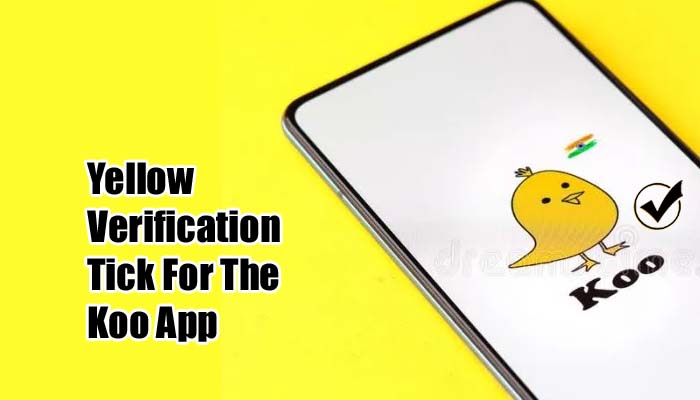 On the microblogging site Koo App, users can express themselves with straightforward text, images, videos, or a mix of all three. Followers and anybody conducting searches on the user's profile can see these "Koos". Koo gives user profiles that are recognised as being a major representative of the voices of the people a Yellow Tick. The Koo award of the Yellow Tick is granted in honour of eminence, impact, prominence, achievements, abilities, or professional position and is based on predetermined criteria.
How is the Koo App's Yellow Tick given out?
You cannot buy the Koo Eminence Tick. It is founded on predetermined criteria that acknowledges eminence, stature, accomplishments, abilities, and professional prestige.
Koo evaluates applications for eminence recognition using a combination of internal research and other public resources, according to the information provided by the application. Each year, the criteria are evaluated in March, June, September, and December to reflect changes in the environment. The Yellow Tick of Eminence may also be given by Koo in extraordinary cases not covered by the criteria.
How to apply?
Users can submit an application to receive the Yellow Tick of Eminence from within the Koo App or by sending an email to [email protected]. Within ten days, a response to the evaluation will be given. In some circumstances, responses might be delayed in order to fulfil the requirements.
Koo Users who wish to examine the requirements for the Eminence Yellow Tick can do so by visiting https://www.kooapp.com/eminence. The users are recommended to read the descriptions of each category before applying.
Missing Yellow Tick
If the original standards for awarding prominence have altered, Koo may at any moment and without warning withdraw the acknowledgment of distinction. Koo will suspend or delete accounts that use images of, or ones that are similar to, the Eminence badge in a way that could lead the public to believe that they are legitimate.
The number of downloads for the made in India app Koo shows that it is becoming more and more well-known. The microblogging app Twitter is one of Koo's greatest competitors. After Twitter became embroiled in a privacy crisis, Koo recently saw a significant increase in subscribers.
Humbly Request To All Visitors!
If you found above both downloading link expired or broken then please must inform admin by fill this Contact Us! Form