News
German Woman Dances To Vicky Kaushal's "Tere Vaaste," And The Video Becomes Popular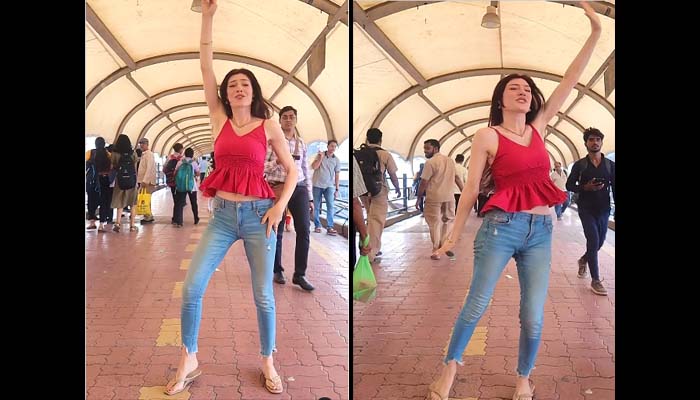 The song "Tere Vaaste" from the recently released film "Zara Hatke Zara Bachke," starring Vicky Kaushal and Sara Ali Khan, has become a worldwide sensation. The number-one song performed by Varun Jain, Shadab Faridi, and Altamash Faridi continues to win over listeners worldwide.
Everyone is busy creating reels and dance videos for the song because of its enormous popularity on social media sites. An online sensation has been created around a video of a German woman dancing to the hit tune.
The woman, who is wearing jeans and a red shirt, is seen dancing amusingly on a busy footbridge. The woman has revealed herself to be Juli Sharma, a German national who has been residing in India for the past two years. Because she is married to an Indian, Juli frequently posts films and images of her life in India.
Her films have received a lot of attention and a range of responses from online users. Internet users have been gushing about the German girl's amazing dance moves and applauding her for exhibiting such talent and courage.Juli posted the video and the message, "Train mere bina nikal gaya." The video has received over 72K likes and numerous comments from her fans and followers since it was posted online.
"Kindly Stop doing this. I've been watching you for a while. Your content is fantastic. Ye chapri mat karo activities. Your content is already excellent. Don't damage it by adhering to pointless trends from the third world, a user said.Someone more said, "Please don't do this nonsense shit in public places, we don't expect all these from you."Another user said, "Sorry to say, but aap standard se chapri wali harkate me aa Rahi ho."
Humbly Request To All Visitors!
If you found above both downloading link expired or broken then please must inform admin by fill this Contact Us! Form