News
Follow These Steps For Aadhar & Ration Card Linking Online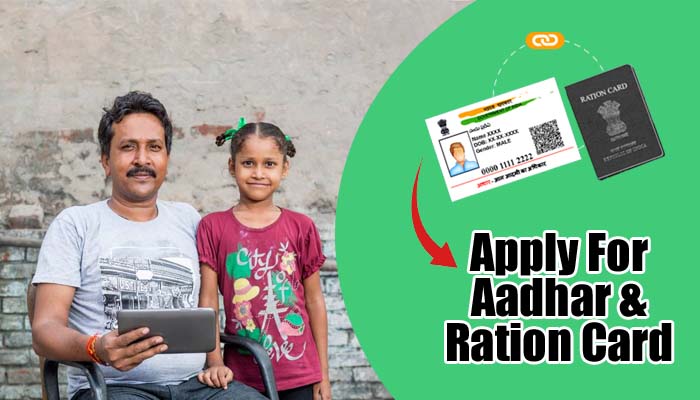 The inhabitants of India are required to link their Aadhaar cards to a number of important papers, including their ration cards, bank account information, PAN cards, voter identification cards, and mobile numbers. Making ensuring that the people receive the advantages of all government programmes is now required. This article examines the process for tying an Aadhaar ID to a ration card.
Advantages Of Ration Card And Aadhaar Linkage
Many households utilise ration cards as their official form of identification in order to receive food grains and gasoline at reduced prices. By digitising it, the major goal is to prevent the issuance of duplicate and numerous identities while also streamlining the benefits associated with it.
Documents Required
While requiring the following document to link an Aadhar to a ration card:
A copy of each family member's Aadhaar card as well as the originals for verification.
A copy of Ration card.
A copy of Bank Passbook (if Aadhaar not linked with the bank account)
Passport size photographs.
Steps For Aadhaar Link To Ration Card Online
The following steps should be followed by candidates who want to link their Aadhaar card to their ration card online:
Step 1: Clicking on this link will take the applicant to the Aadhar seeding portal's official website.
Step 3: The applicant will now be forwarded to the website for the Aadhar seeding application. Select "Start Now" from the menu.
Step 4: Fill out the form completely, choose the Benefit Type from the drop-down menu, and then choose "Ration Card" as the scheme name.
Step 5: Click "Submit" after filling out all the fields.
Step 6: Use the registered mobile number to get an OTP. To complete the request, enter the OTP.
The applicant will be notified that your Aadhar card has been linked to the ration card when the details have been successfully verified.
Offline Procedure
The following steps should be followed by applicants who want to link their ration card to their Aadhaar card offline:
Step 1: The applicant must go to the nearby Ration Shop or PDS centre.
Step 2: At this point, present all of the necessary paperwork to the Public Distribution Shop (PDS) or Ration Shop.
Step 3: The applicant will be alerted through email or SMS when their documents have been submitted and have been received by the proper department.
Step 4: Following the submission of all required documents by the authorities, another notification regarding the successful linkage of the Ration Card and Aadhaar Card will be given.
How to Link Aadhaar with Ration Card through SMS?
Step 1: The applicant must enter "UID SEED" followed by "State Short Code" followed by "Scheme/Program Short Code" followed by "Scheme/Program ID" and "Aadhaar Number." mail it to "51969" after that. UID SEED MH POSC 9876543 123478789012 is an example.
Step 2: Last but not least, the application will get alerts confirming receipt of the data, successful verification, and successful linkage of the Aadhaar card with the ration card.
Humbly Request To All Visitors!
If you found above both downloading link expired or broken then please must inform admin by fill this Contact Us! Form