UNIQUE TRICKS
Fast & light – best Facebook mobile app alternative with built-in Messenger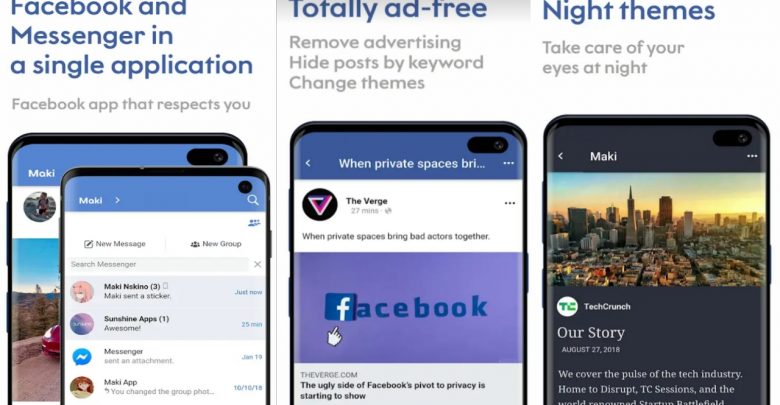 🤔Facebook and Messenger are a perfect match, but why do we need to keep them separately as two large applications that require a lot of free storage on your device?
You don't need to do that anymore with Maki – a clear alternative of an official Facebook mobile app that has Facebook and Messenger with audio & video calls, no Facebook ads, built-in video downloads and a lot more. And all of that for free. 😌
Why you will love Maki?❤️
😊FACEBOOK AND MESSENGER TOGETHER IN A SINGLE APP
No need to download and keep two separate apps on your device – use both Facebook and Messenger in Maki. Now it is a lot more comfortable to use Facebook and chat with your friends without the need to keep two huge apps on your device.
Now you can use your free storage for photos, videos, music, and games (yes, Maki is very small!).
📹FACEBOOK VIDEO DOWNLOADER
Download videos from Facebook with a single tap to watch them offline or to share videos with friends.
😲 TOTALLY AD-FREE!
Maki doesn't have any advertising from me. Furthermore, you can easily disable Facebook advertising and hide or highlight post in the news feed by a keyword.
🌟FEATURES
CALL YOUR FRIENDS
Make audio and video calls with your friends in a built-in Facebook Messenger.
NIGHT THEMES
Use Maki comfortably at night with no harm to your eyes.
QUICKVIEW
Tap and hold external links to quickly preview them.
MULTIPLE ACCOUNTS
Switch between different accounts on Facebook
INSTA DOWNLOADER
Save photos from Instagram on your device.
BE PRODUCTIVE
Limit usage of the application by setting time intervals when you don't want to spend your time in socials.
ADVANCED FACEBOOK NOTIFICATIONS
Be in touch with this world (and your friends) – Maki allows you to receive notifications from Facebook and Messenger.
READ
Set all Facebook notifications as read with a single tap.
MORE SOCIALS
Twitter, Instagram, Reddit, and more socials are built-in as well.
😊Switch to Maki and give her a try – share Maki with friends, leave your impressions and help me by sending your bug reports and suggestions. I'm always trying to add new features and fix bugs to deliver you the best experience from using Maki.

All of Facebook's images and assets are the property of Facebook Inc. This app is not owned by Facebook Inc. and does not have any relation to it.