UNIQUE TRICKS
A Guide To Domain Name Registration For Your Website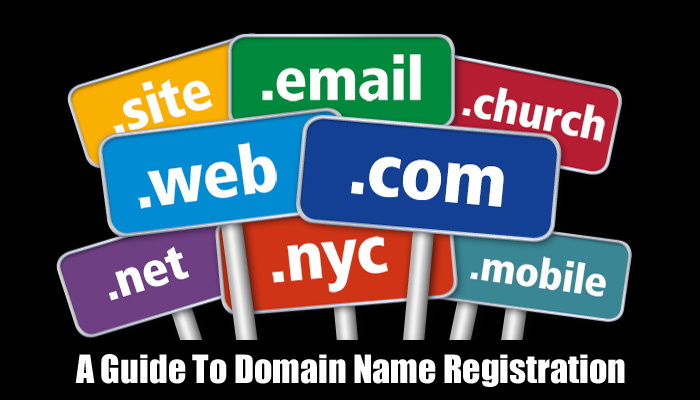 A domain name purchase was one of the few ways to hold virtual property long before investing in metaverse real estate. In addition to acting as your internet address, domain names are crucial to your branding efforts and online visibility. Due to the high value of appealing domain names, they can also serve as an important corporate asset. With this in mind, acquiring a domain is a significant step in creating a solid online strategy and making an investment in the future. Follow these instructions to discover how to register a domain name for your website, regardless of your industry or niche.
What Is A Domain Name?
This phrase refers to the URL you enter into a browser to access a website. Every domain is distinct since it effectively serves as a website's address. www.technicalfirstpost.in is one illustration. In order to make it simpler for users to access a website's Internet Protocol (IP), a series of digits that identifies each particular website, domain names were developed. A domain is considerably easier to remember than a series of digits unless you are a computer, even if every URL has an IP address. Consider the IP address 185.230.63.164 as an illustration. To most people, this is just a long series of numbers. In addition to being simple to remember, its domain name, technicalfirstpost.in, expresses a distinctive brand that numbers cannot.
Why A Domain Name Matters?
A solid domain name will serve as your company's online home and represent your brand there. Your company is impacted by a good domain name in three key ways:
It guarantees a favourable first impression. A potential customer will frequently learn about your company for the first time on your website. Your audience will view you as credible, dependable, and authoritative in your professional field if your domain name is unique.
It's a strong base for developing a brand. If your domain name is distinctive, memorable, and consistent with the rest of your branding materials, it can improve the name recognition of your business. By forming associations between your name and website, it assists users in enhancing the value of your brand or company.
Your brand's SEO potential will increase. A good domain name can help your site's SEO even though Google doesn't base website ranking solely on it (search engine optimization). If your website appears on a search engine results page (SERP) that matches a user's query, unknowing visitors may click on it. For instance, a person looking for backpacks is more likely to click on qualitypacks.com than a brand they are unfamiliar with.
Five Steps To Registering A Domain Name
Choose a domain registrar.
Select the ideal domain name.
Check to see whether your domain name is available.
Choose a domain extension.
Purchase a domain name
1. Select A Domain Registrar
You must first be aware of where to purchase a domain name before you can start making choices. A business that reserves and administers domain names is known as a domain registrar. A registrar communicates with ICANN on your behalf even though the Internet Corporation for Assigned Names and Numbers (ICANN) oversees all domains globally.
2. Choose The Best Domain Name
When selecting a domain name for your website, you must take numerous considerations into account. Choose a name that accurately captures the voice and messaging of your brand first. Keep your domain name brief and memorable, like nbc.com, so that people can remember it easily. You may also include a connected keyword in the domain name of your brand to help your SEO efforts. For instance, Talia Cohen, an illustrator, would choose taliacohenillustration.com, while Whiskers, an animal rescue group, might choose whiskersrescue.com. Make a selection of prospective names once you're ready.
3. Check The Availability Of Your Domain Name
Your desired domain names might already be registered by existing businesses. On a domain name search website, you are able to test out an infinite number of alternatives without cost. If the name you choose is not available, the programme will suggest other names. Try out different options until you discover the ideal one.
4. Select Your Domain Extension
Domain extensions, also referred to as top-level domains (TLD), are used to rapidly identify specific website elements, such as purpose, owner, or location. There are five recognised TLD varieties, with the majority of the 366 million registered domains globally falling under the generic top-level domains (gTLD) category. The most memorable gTLD options are.org,.com, and.net because they are the most widely used. The complete list of domain extensions maintained by ICANN is available here. Try your domain name with a different extension if the one you want is already taken; you might locate a free one. However, bear in mind that.org is more suited for charitable institutions, whereas.com typically denotes for-profit businesses.
5. Purchase Your Domain
Once you've decided on a domain name for your website, register it right away to avoid competition. The following details on how to do so with technicalfirstpost.in:
Visit the domain registrar now.
Click Search after entering the domain name of your choice.
Click Get It if your name is accessible to continue. If not, look through the further suggestions or enter a different query in the search box.
Click Get It when you've located a domain name that works for your website.
Decide if you want to sign up for one, two, or three years after that. The more money you save annually, the longer your registration time must be. After making your decision, click Continue to proceed to the checkout.
Connect the domain name to your website and spread the word to your target market, whether it be close friends and relations or a specific online niche.
How To Buy A Domain Name
Free Domain Name Registration
A domain name can be obtained without cost in a few different ways:
Free subdomain registration. A subdomain is a prefix on a domain name that links websites that are run independently. Users can get a free website with a unique subdomain from some hosting services and website builders. For instance, you can publish your Wix website for free using the URL structure username.wixsite.com/siteaddress.
Benefit from free web hosting. You can have a professional online presence without spending any money thanks to the free customised domain registration that many hosting providers offer with purchases.
How Much Does A Domain Cost?
Although you can get a domain for free, you might choose to buy one. If you're starting an online presence or only temporarily need a website, a free domain will contain a predetermined prefix of the registrar. However, if you want your website to be unique and develop along with your business, make a domain name investment.
The price of a domain name with Wix varies on a number of factors, such as:
The plan you purchase
Domain extension
Local currency
Local VAT laws
However, a domain, which typically costs between $14 and $39 per month, is included with all Wix premium plans for a full year. Your domain can be renewed for somewhere between $13.95 and $15.95 each year after the first year. You may learn more about domain name prices in-depth to decide which is best for you and your company.
Auto-renewal fees, privacy and protection fees, and domain transfer fees are often some additional aspects to take into account that can affect the price of a domain. You may, for instance, pay someone else or a company to sell you an existing domain. This is why having a popular domain name might benefit your bottom line because you could potentially make a sizable profit if you ever decide to sell it. For instance, one of the top ten most expensive domain names ever sold was CarInsurance.com, which fetched $49.7 million in 2010.
Humbly Request To All Visitors!
If you found above both downloading link expired or broken then please must inform admin by fill this Contact Us! Form